NURSE LAPTOP COVERS
Protect your laptop with a custom laptop computer cover available in several nursing themed styles. Made with 100% neoprene, these lightweight and water resistant sleeves look great with these cute and funny nurse designs.
These form-fitting cases are availablin in sizes for 10 inch, 13-14 inch, and 15 inch laptops.
---
Peace Love Nursing Laptop Sleeve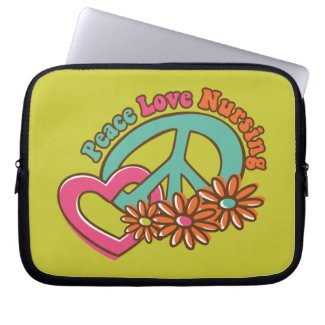 Retro nurse design featuring a peace symbol, heart and groovy flowers in psychedelic colors. Text says PEACE LOVE NURSING. Perfect for your favorite nurse! PinkInkArt original!
---
Nurse Love Print White Background Computer Sleeve
Sizes for 10 inch, 13-14 inch, and 15 inch laptops. Form fitting case; fits most slim laptops. Lightweight and water resistant neoprene. Top loading zippered enclosure.
---
Nurse Owl Computer Sleeve
Are you a nurse? Do you collect or have a love for certain animals? Then here's a fun animal design to show off your awesome career! Thank you for all you do!
---
Nurse Superpower Computer Sleeve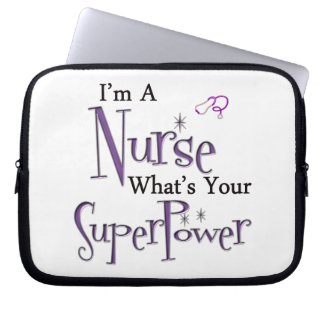 "I'm a nurse ~ What's your superpower?" laptop cover makes a great gift for any nurse or nursing student.
---
Nurse Pride Attributes Black+White Laptop Sleeve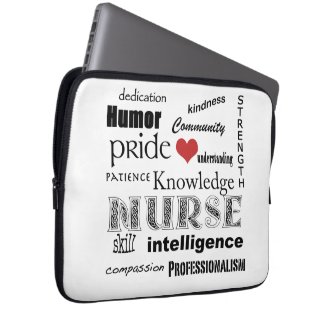 If you're a Nurse, or you know one, this would be a great little gift. Features a white background, and words in black that spell out all the attributes and strengths that nurses in this demanding field of nursing, must have to be successful. Has a little heart in there too, because nurses have big hearts! Design comes in 5+ cool colors!
---
Silver Oval Caduceus Nurse Computer Sleeve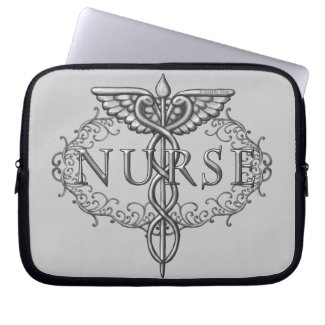 Great for travel or just day-to-day use, custom laptop sleeves come in three sizes to fit your device and your style.
---
MORE like this, or create your own custom design at Nurse Design Laptop Sleeves at Zazzle.
---
Latest styles nursing scrubs and nurse shoes from top brands at SCRUBS HQ.
---