FLIP FLOP SANDALS
These cool and cute nurse design flip flops will knock your socks off! Choose from a boatload of nursing themed designs that reflect your sandal style. Our waterproof thongs are perfect for the beach, around the house or to the mall, and make a great fun gift for any active or retired nurse or nursing student.
---
Nursing Occupation Pink Flip Flops
Design includes "Nurse" text along with hearts and stethoscope graphics.
---
Nurse Skull Cute Flip Flops
Your choice of thong strap colors.
---
Retired Nurse Flip Flops
Design features large black polka dots, flowers, and nurse caps inscribed "Retired" and "Nurse".
---
Cute Kawaii Pink Nurse Ghost Sandals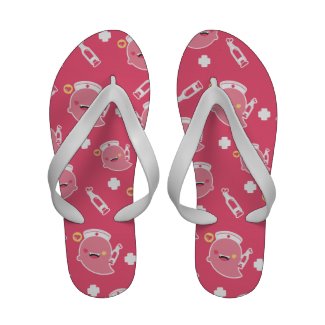 Smiley cute kawaii pink nurse ghost with syringe. Click on the "customize it" button to personalize the design with a name or any other text.
---
---
More like this: Nurse Sandal Designs at CafePress.
---
Latest styles nursing scrubs and nurse shoes from top brands at SCRUBS HQ.
---