NURSE PERSONAL CHECKS
Nurse and medical themed personal checks in a variety of styles including nursing tools, florence nightingale pledge, red cross and more.
---
Tools of the Nurse Trade Personal Checks
4 check images featuring nursing and medical tools.
---
Nursing Values Personal Checks
4 check images of nurses on the go.
---
Medical Checks
4 images featuring stethescopes, blood pressure gauges, and other health care tools.
---
Nurses Touch Lives Personal Checks
Linn art nurse checks with 4 different captions about nurses.
---
Nurse Tools Checks
4 alternating images in this set of nurse personal checks.
---
Nurses Rock Personal Checks
"Nurses Make A Difference", "Nurses Rock", and other nursing related captions in these personal check designs in soft pastel colors.
---
Nurses Call The Shots Personal Checks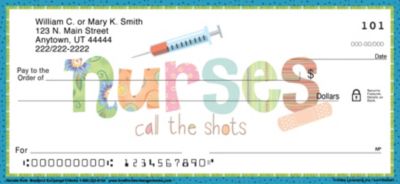 This whimsical nursing themed check design features 4 different captions including call the shots, Nurses Rule, You Can't Scare Me I'm A Nurse, and I Can Conquer Anything I'm A Nurse.
---
Nurses At Work Checks
This set of personal checks features 4 illustrations of a nurse at work.
---
Red Cross Personal Checks
The four illustrations in these healthcare-themed personal checks are dedicated to the dedicated few who have those much-needed skills, those who stay calm and save lives.
---
Florence Nightingale Personal Checks
4 alternating images featuring Nurse's Pledge and Florence Nightingale Quotes.
---
Nurses Cure Checks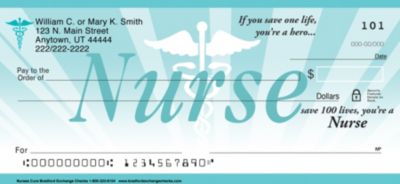 Let the world know youre a lifesaver every time you use these nursing checks from Bradford Exchange Checks®. Four different designs feature inspirational sayings and icons related to the nursing profession. Among stethoscopes, hearts, Caduceus symbols and rays of inspirational light are the sayings, "If you save one life, youre a hero…save 100 lives, you're a Nurse", "Nurses dispense comfort and compassion…without a prescription", "Doctors diagnose…Nurses cure" and "When you're a nurse you know that every day you will touch a life…or a life will touch yours".
---
Also see: Checkbook Covers.
---
Latest styles nursing scrubs from top brands at SCRUBS HQ.